15 March, 2017 at 15:19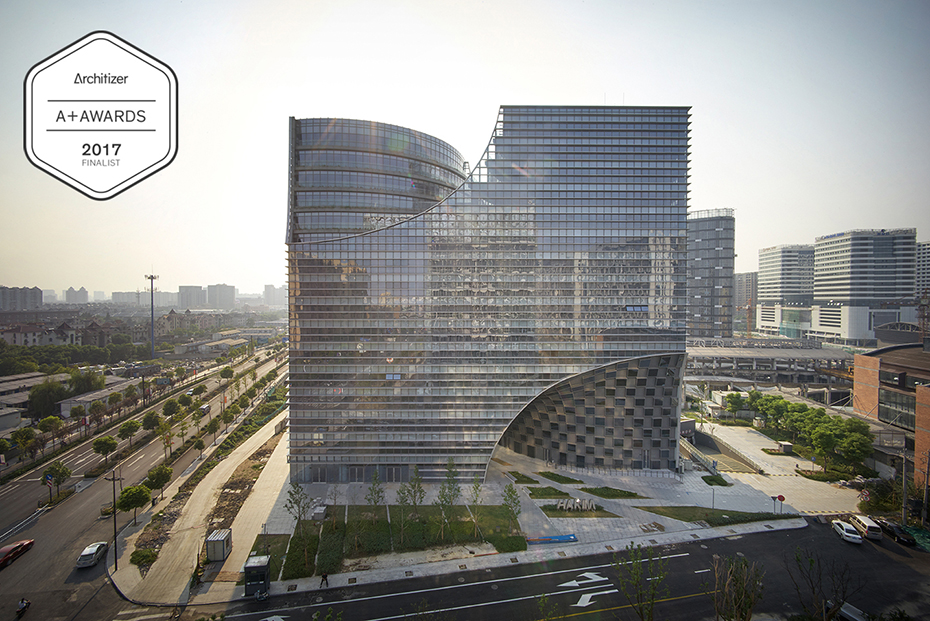 Dear friends, we've been selected as finalists for this year Architizer A+ Awards in the Commercial/office High-Rise category for our Project H in Hangzhou.
the project has a very particular attribute for such a commercial category: it has been thought through as a way to re-enact a historical public connection between an existing market square and another public space originally thriving with local life. Our site would have severed that connection. Instead of maximizing sell-able surfaces we convinced the client that this community link would be important to bring back to a neighborhood that has suffered tremendous changes through recent times.
We're here in competition against some of the biggest corporate firms that often have a tendency to disregard these kind of concerns.
If you believe, like we do, that commercial programs should be sensitive to contextual and historical matters, VOTE for us here:
https://vote.architizer.com/PublicVoting#/winners/2017/typology/commercial/office-high-rise-16-floors
13 March, 2017 at 19:38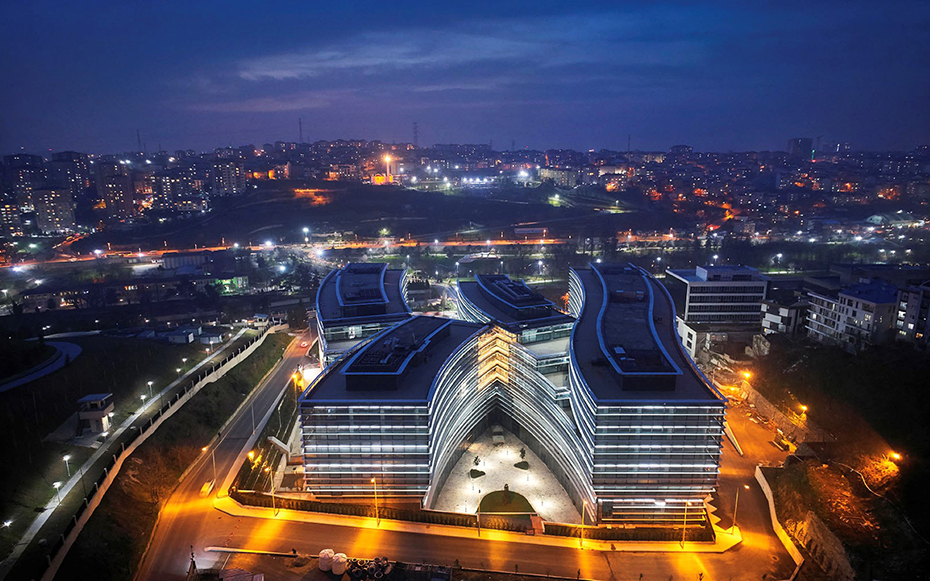 Kagithane Gardens is a business district that focuses on the user's working and living qualities. The building brings a new form of contextual and urban approach to Istanbul: it is formed by our desire to make it interact with its environment. It opens itself up to the neighborhood by offering public plazas, intimate gardens and generous terraces to users and passersby. The volume of the block is carved out to invite the surroundings in. The local hilly landscape, characteristic to Istanbul, is mirrored both in the plan and section of the volume by curving along the sites edges and weaving into gently curved slopes, echoing the nearby Bosphorus waves.
On the ground floor the vibrant commercial life bursts out onto the plazas and the landscape. On the upper levels the offices open out onto the green terraces, populated with lush vegetation, providing a cooling system during hot springs and summers. The volume reads clearly while still opening itself generously to the city from a far. As one gets closer the interiors become more discreet, protected by louvers that help shade from the sun.
The project acts as a catalyst of business life for a new Istanbul, that promotes contemporary culture, architecture and lifestyle. Our building offers interaction between inside and outside and provides flexible plans that can be adapted to accommodate the workspace needs of all types of businesses, whether it be a small one-man show or a large corporate office. We believe life is plural and various entities should coexist and exchange their experiences. The Kagithane Gardens is where such a rich diversity can find its place.
13 March, 2017 at 19:29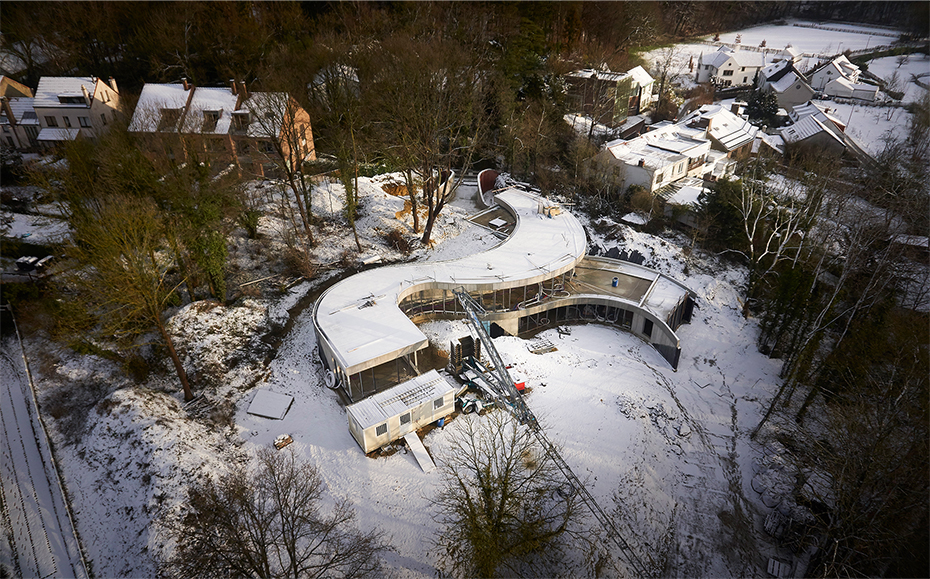 Our Secret House in Brussels has topped out. The project will be completed in Spring 2017 for a private client on the outskirts of the capital.
Located in a quite wooded area outside of Brussels, the secret house blends into its sloped site. The domestic program is dispersed along two stacked sinuous strips, weaving in and out of the hill to catch maximum views and sunlight. The façade uses a curtain wall system to create long, generous windows. The house will comply to "passive house" standards, minimizing its environmental impact.
13 March, 2017 at 19:16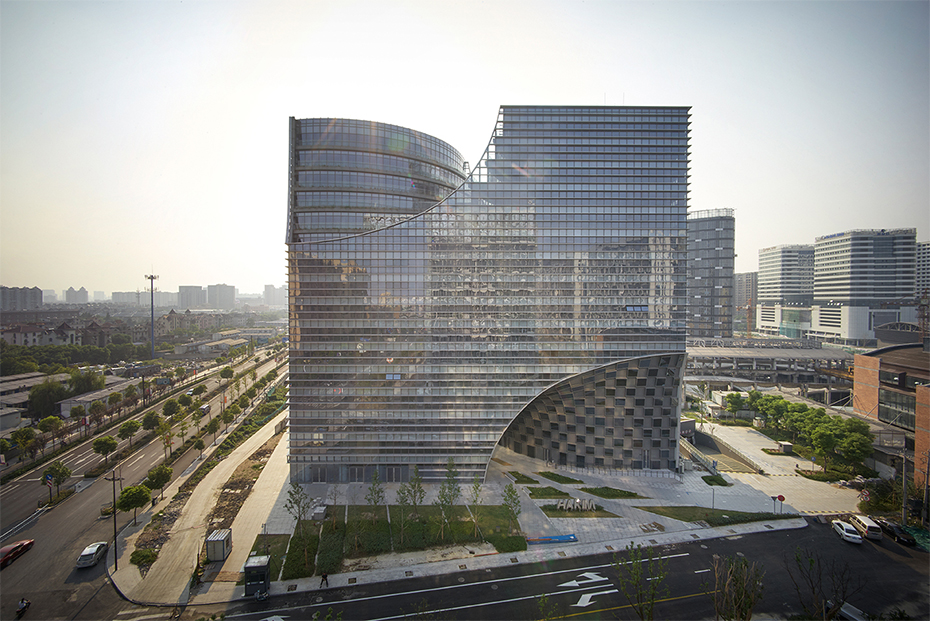 Our H project, headquarters of Internet service provider Hakim is completed in Hangzhou China.
This 16-floor office building is a block the size of the site with two voids traversing the building diagonally in plan, creating an iconic H shape. The void through the bottom floors becomes an arch which serves as a covered public space and is oriented to create a pathway between the two urban centers surrounding the site. It establishes and enhances a connection throughout the overall master-plan by creating a green node. By lifting its mass into an arch the building recreates a gateway between two surrounding public spaces rather than a hindering wall of office space. The double curved surface of the arch and the graphic pattern of green space invites passers-by to meander through.
The top void creates a stepped green recreational park reminiscent of ancient Chinese rice-field landscapes. The landscape also serves as rainwater retainer which re-uses natural water and cools down the building. It is oriented to provide maximum sunlight and views to the offices. Sunlight, access to fresh air and outdoor recreational space create a quality work environment.
By carving out voids the building offers spaces at a human scale with specific qualities, contrasting with the undifferentiated space created by recent development in Chinese cities. The design engages with Hangzhou's rich and diverse architectural history by reinterpreting the traditional Chinese gateway and reconnecting with the city's tradition of proximity to nature.
13 March, 2017 at 18:56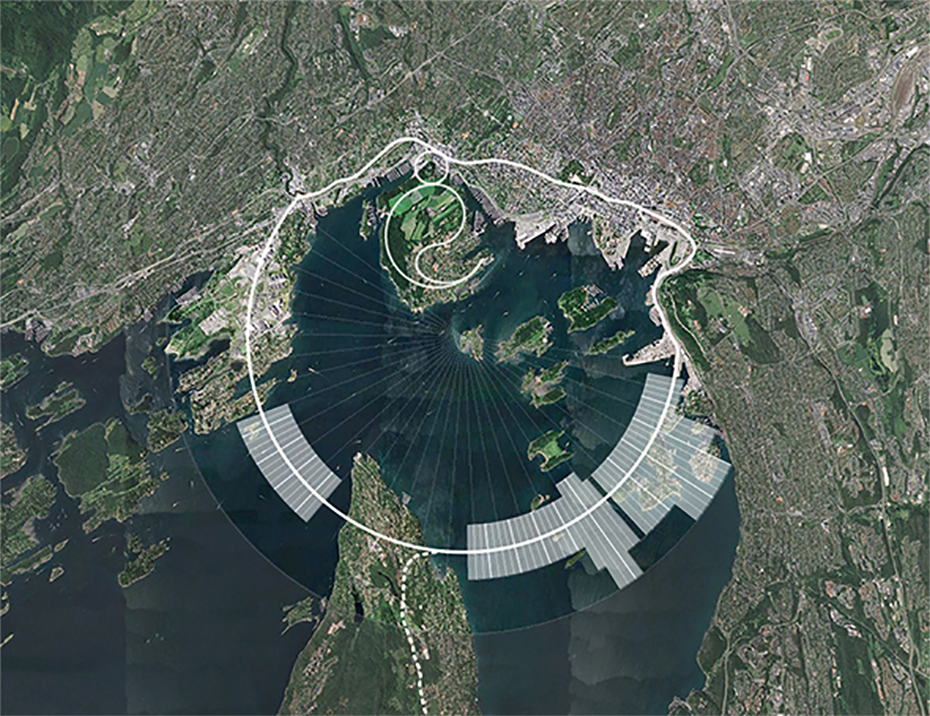 From January to April 2017, Julien De Smedt is holding a research and design studio at Syracuse University, NY, addressing the challenges of Oslo's growth.
Oslo is the fastest growing city in Europe.
Our studio is to engage in the tremendous growth of the capital and to propose an expansion strategy to organize and locate the city's expected 1.5mio new inhabitants by 2100.
The project is entitled O21OO
Syracuse University, NY
Michael Speaks, Dean of the School of Architecture
Julia Czerniak, Professor and Associate Dean
Julien De Smedt, visiting professor of the RUBIN GLOBAL DESIGN STUDIO
Students:
Christine Robillard, Ruting Li, Yuchi Kuo, Arman Salemi,
Ross Daniel Hanson, Matthew Alan DiRado, Katherine E Truluck, Anuradha T Desai; Kokeith Perry II; Nathalie Renee Brock; Parker Hutchinson Whitmore, Mahan Navabi, Margaret Petri,
Clifford Ernest Bourque, Sang Ha Jung, Lan Li
22 February, 2016 at 17:38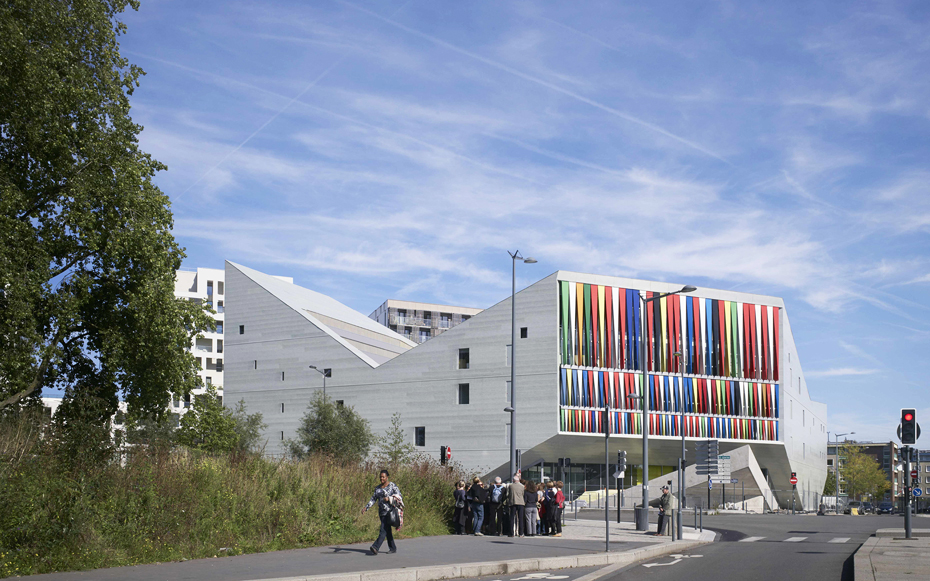 Our project « Maison Stéphane HESSEL » formerly known as the ABC Lille will be inaugurated the 25th of February 2016 by Jean-François Cordet, Martine Aubry, Xavier Bertrand, Jean René Lecerf and Damien Castelain.
In the presence of Christiane Hessel.
Over the past twenty years Lille has become a European hub; a destination for business and congress, a great place to study and live and also a tourist destination. It is a city with a turbulent history of conquest and reconquest, a heritage as an important medieval city and later on enjoyed and sometimes suffered the title of Northern France industrial capital.
The Maison Stéphane Hessel project emerges from the idea of creating an urban catalyst, designed to accommodate the three ages of mankind, from birth, through adolescence, and into adulthood; a volume that captures the stages of human growth.Each program defines the triangle from its summits to its centre, where a uniting cloister offers a retreat from the city. The corners of the building are lifted to invite the neighbourhood and provide spaces for public activities, extending the function of the building beyond its walls and intentionally blurring the divide between indoor and outdoor.