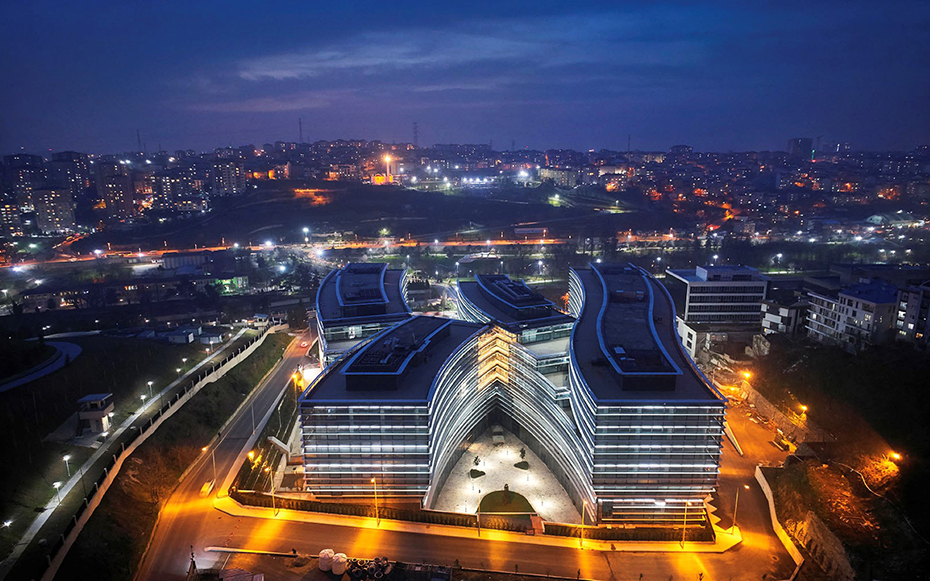 Kagithane Gardens is a business district that focuses on the user's working and living qualities. The building brings a new form of contextual and urban approach to Istanbul: it is formed by our desire to make it interact with its environment. It opens itself up to the neighborhood by offering public plazas, intimate gardens and generous terraces to users and passersby. The volume of the block is carved out to invite the surroundings in. The local hilly landscape, characteristic to Istanbul, is mirrored both in the plan and section of the volume by curving along the sites edges and weaving into gently curved slopes, echoing the nearby Bosphorus waves.
On the ground floor the vibrant commercial life bursts out onto the plazas and the landscape. On the upper levels the offices open out onto the green terraces, populated with lush vegetation, providing a cooling system during hot springs and summers. The volume reads clearly while still opening itself generously to the city from a far. As one gets closer the interiors become more discreet, protected by louvers that help shade from the sun.
The project acts as a catalyst of business life for a new Istanbul, that promotes contemporary culture, architecture and lifestyle. Our building offers interaction between inside and outside and provides flexible plans that can be adapted to accommodate the workspace needs of all types of businesses, whether it be a small one-man show or a large corporate office. We believe life is plural and various entities should coexist and exchange their experiences. The Kagithane Gardens is where such a rich diversity can find its place.