VENICE BIENNALE

This year marks the opening of the long awaited Biennale curated by Rem Koolhaas. This is probably the most meaningful one to date and we're anticipating a string of amazing events.  We will  attend this week's opening. See you there!
DOWN MEMORY LANE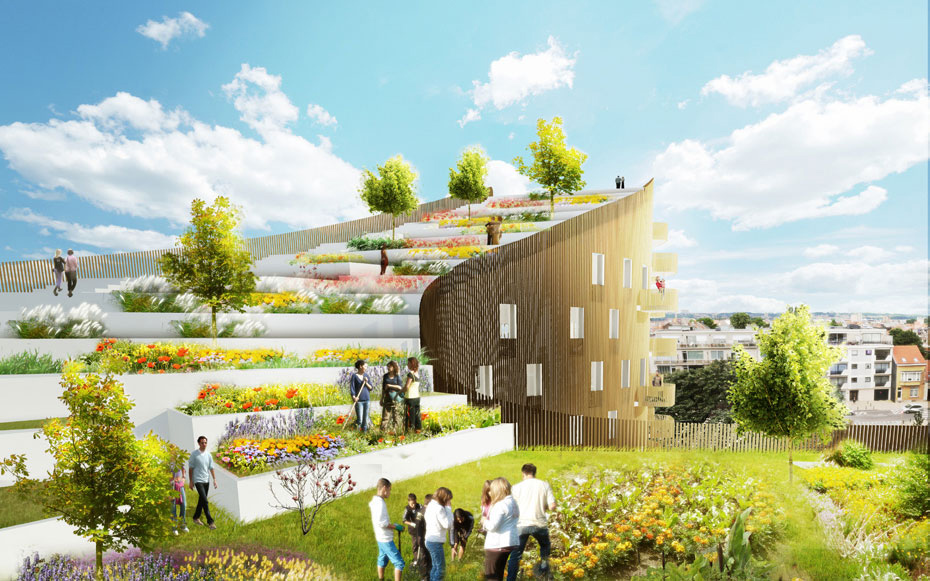 Last year, we were selected to compete on a site where Julien lived until his third year of Architecture School. This situation presented a very rare condition in architecture: to be able to address a context that we as architects knew intimately, probably better than anyone.
The site, owned by the municipality is composed of a series of houses, public spaces and the cafeteria of the local school, Clair-Vivre, where Julien also had is primary education degree. The house in which he and his mother lived until she passed away, was part of the masterplan and was meant to be replaced by the newly designed project. In this context our intervention became very particular: on the one hand marked by the desire to fully address the project's brief and on the other hand, to inform our design by the intricate knowledge of having apprehended the entire site and surrounding neighborhood, years after years while growing up.
The project organizes the mass of new programs, the large scale housing slab, in order to allow a series of public space interventions and to integrate the school sports hall and cafeteria into its urban logic. As Julien's mother had done her entire time living there, the project proposes to make, at a much bigger scale, an urban farm and flower garden on the roof for the new residents. The volume of his house is kept but mutated into a greenhouse to serve as the community and cultural house of exchange with Lokossa in Bénin (Africa), the sister city of Evere, the municipality it resides in. The greenhouse hosts a myriad of plants from Lokossa and functions as a gathering place for the local community. It is a form of homage to Julien's mother love for African cultures but it also answers the necessity of a place for the 2 municipalities to relate.  Finally, to our disappointment, the winner was appointed with a project of a traditional, enclosed perimeter block structure.
See the project online here:  jdsa.eu/sqa
PARISIAN BAGUETTE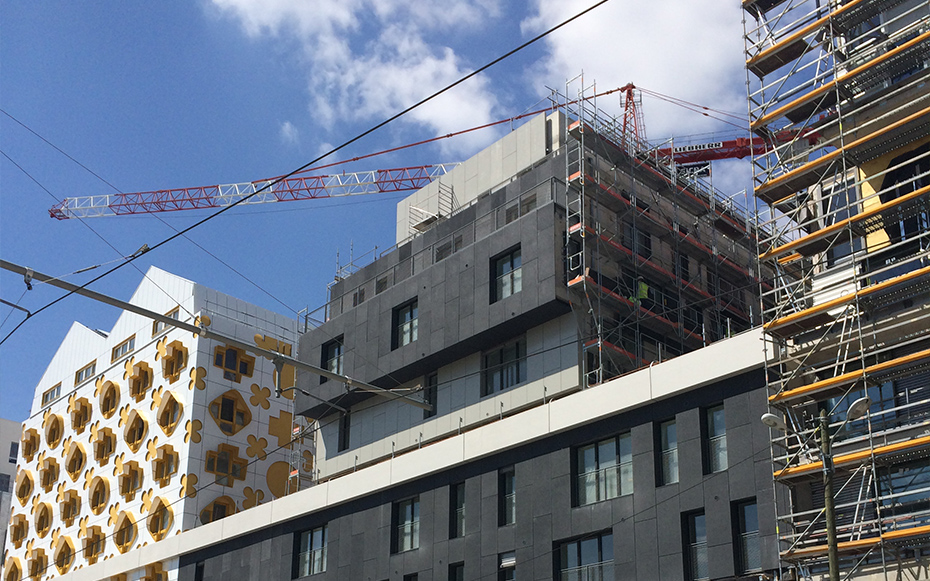 On the 11th of June at 12.30 the Pavillon de l'Arsenal will open an exhibition of the Calberson MacDonald redevelopment in the North East of Paris. The old industrial facility is the longest building in Paris. The building undertakes a conversion into a mix of office, residential and commercial programs. Its masterplan was handled by OMA/Rem Koolhaas with Floris Alkemade. JDS is building two housing projects within the complex, adding up to 100 apartments. It will be completed later this year.
FLEXIBLE POLICE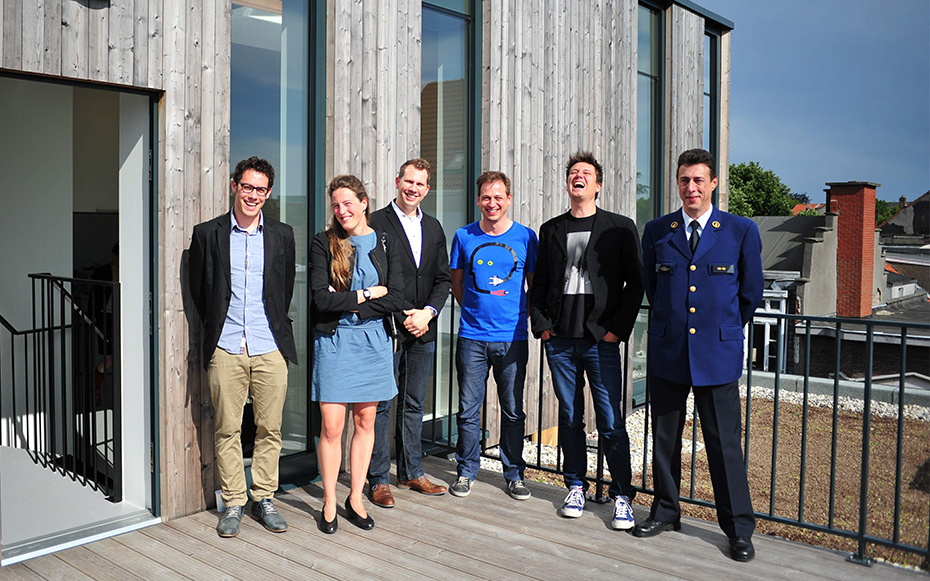 We are proud to announce the opening of our very first building in Belgium. The outline of the project's brief was intriguing at first: to design a facility for the police department of Antwerp that would be able, in time, to become a residential building. The idea of isolating the main volume away from its neighbours is as much a desire to break out from the historical scenery as it is to emancipate its purpose as a potential transgender building.
FABULOUS BATH

The Faaborg harbour bath project (which we all used to name FAB…) is now open!
If you're in the region anytime soon, don't hesitate to try it out, it's free to all!
KALVEBOD MAKES (MORE) WAVES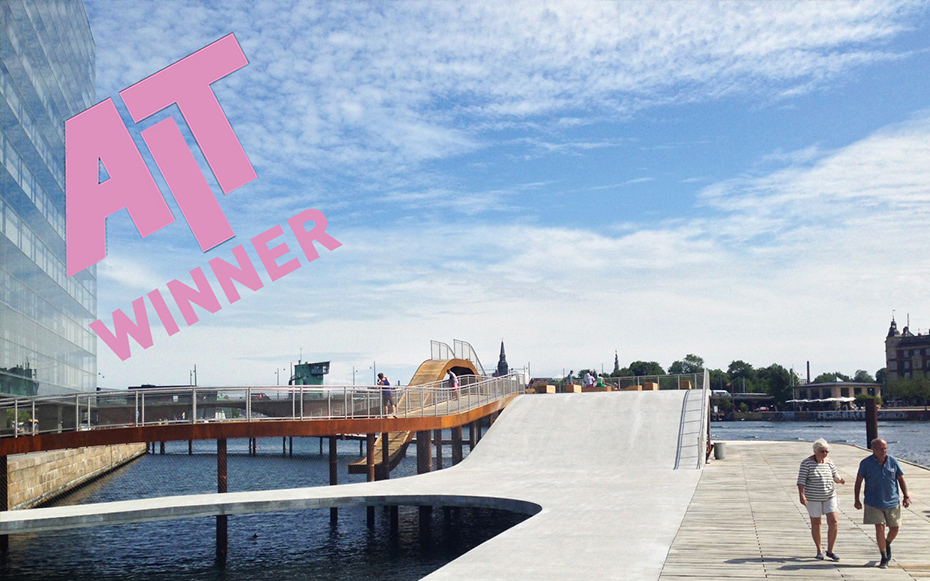 After enjoying 2 weeks of summer life in late 2013, our Kalvebod Waves waterfront project had to face the harsh reality of an early, long winter. Since then it has been busy collecting award Nominations (Architizer A+ Finalist 2014) and winning the AIT Award 2014!
Now the project is fully operational for its first full summer season and awaits your creativity to use and abuse it!
JDS CHINA TOUR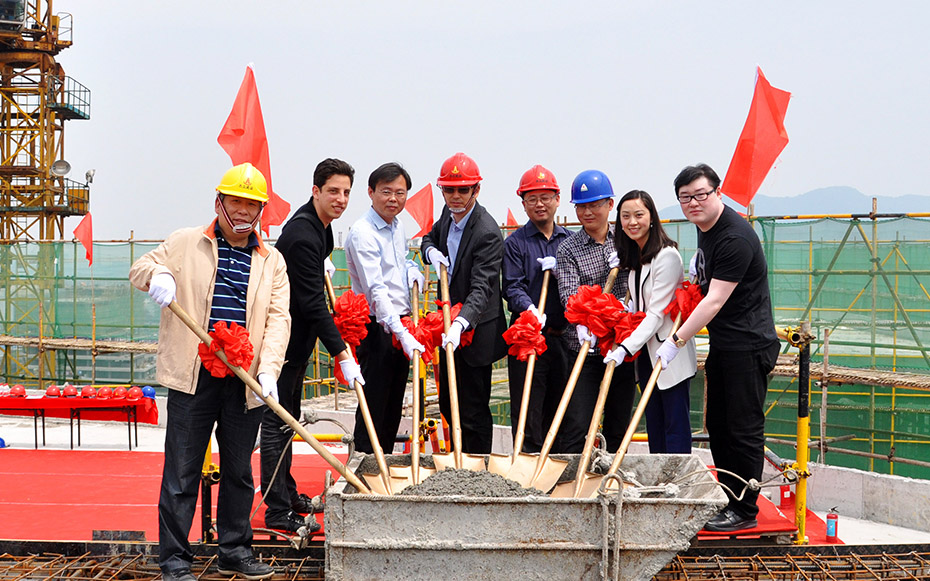 This past week we have traveled China to visit our different construction sites and to meet new clients. We went from Shanghai to Hangzhou, Wuhan, Qingdao and finally back to our Shanghai office.
RAW HANGZHOU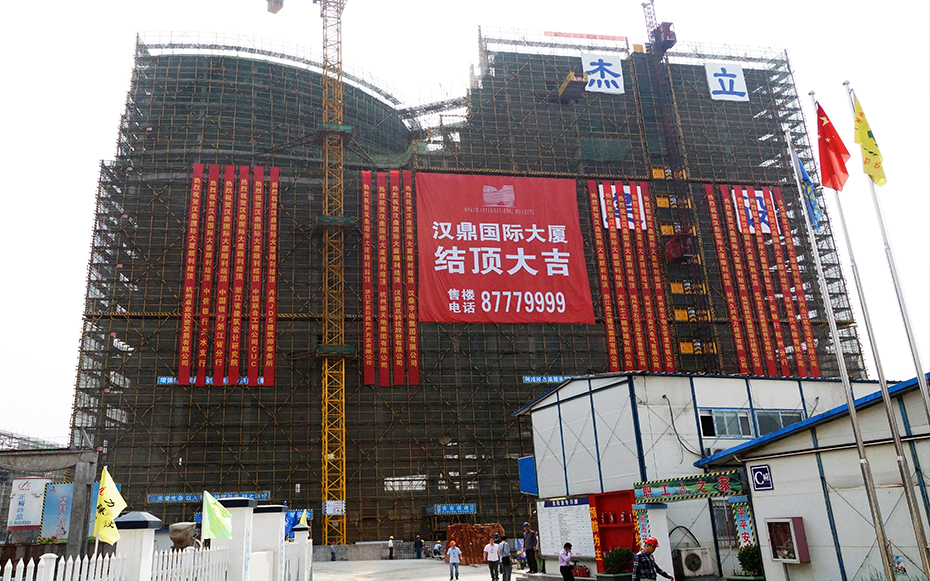 We have just topped off our first project in China with this 25000m2 office and commercial mix building in Hangzhou. See jdsa.eu/hang
QINGDAO RISING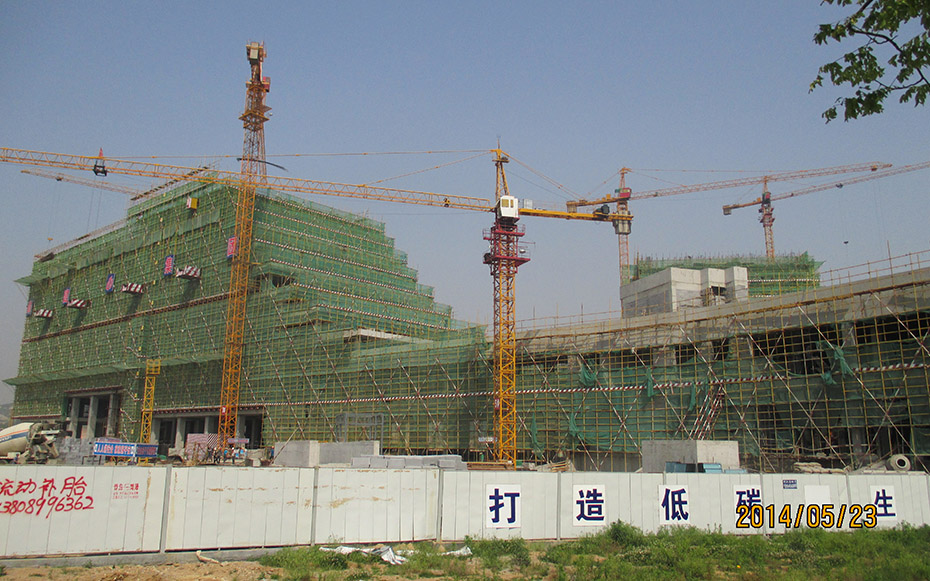 Our 180,000 m2 development in Qingdao is going full speed and already reaching the 9th floor! See jdsa.eu/qoh
BUILDING GANGNAM STYLE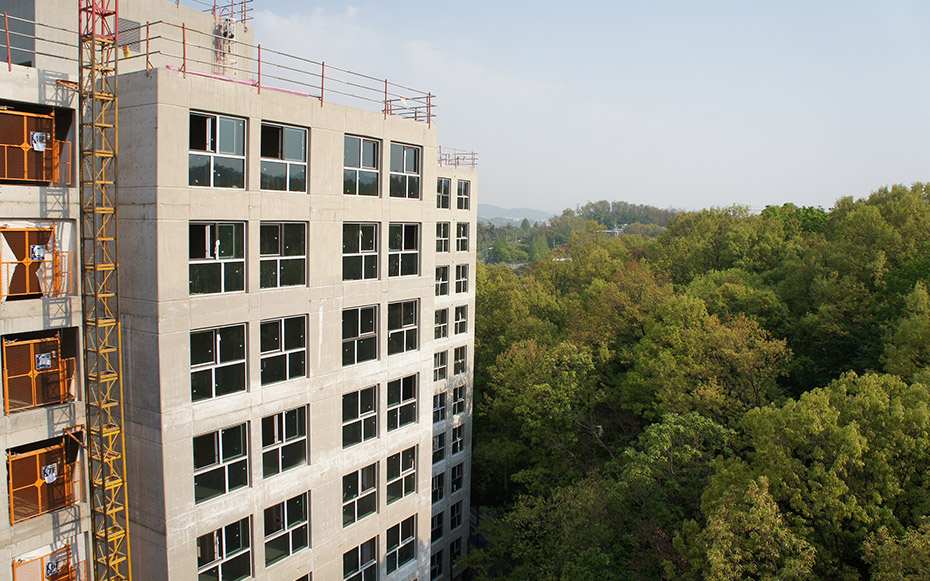 The construction of our 800 residential units development in Gangnam, Seoul, is well on the way! We have completed the raw house and are currently busy with facades, finishes and surroundings. See jdsa.eu/hang
PROJECTS UPDATE ON JDSA.EU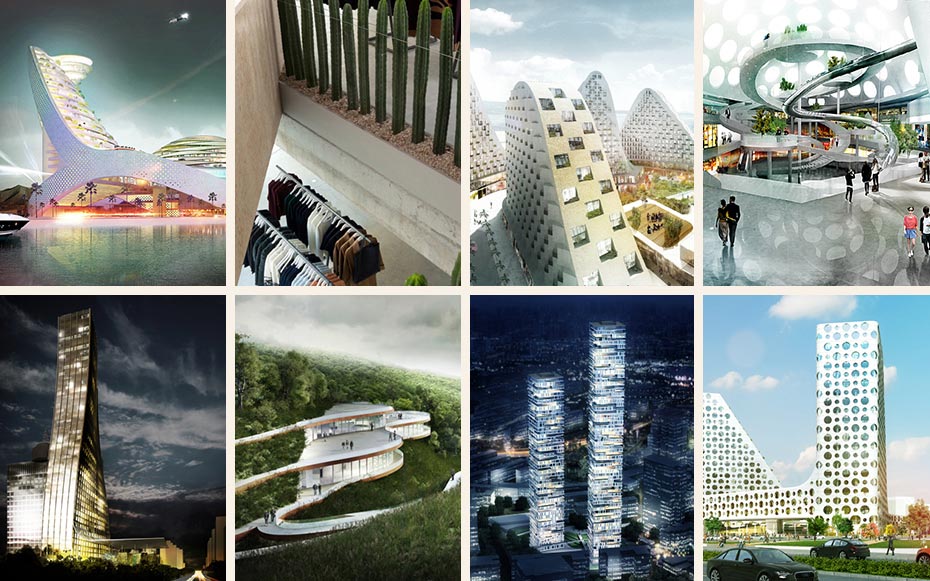 We've finally made a long overdue website update of projects. You can now discover the following projects on JDSA.EU:
ZEYTINBURNU CITY
Located in between Istanbul's center and its airport, the Zeytinburnu neighborhood faces the sea of Marmara. Our site is located on the waterfront and benefits from amazing views to the bay. To manage to profit from those views throughout the entire depth of our site we composed a structure that alternates high and low peaks. See jdsa.eu/zey.
AVAZA PARK
Avaza Park is a project containing an aqua park, sport installations combined with a hotel and a yacht club. Located in an improbable site on the Caspian sea, the project carves out the coast to remain free standing, or rather free floating. See jdsa.eu/ava.
A TOUCH OF MEXICO IN BRUSSELS: SIBLINGSFACTORY
The making of an interior for a new concept store is something that is both a small task and a very meaningful one: small in size and in apparent complexity. Meaningful in the fact that a contemporary concept store attracts trendsetters and a culture minded audience. Especially when the its concept is to blend fashion, product and furniture design, a bookstore and temporary art exhibitions into 260m2. It called for something even more unexpected: a reference to Frida Kahlo's cacti fence, emblematic of where she lived and worked in Mexico City. See jdsa.eu/sfy.
A TOUCH OF BRUSSELS IN MEXICO: THE POLYFORUM PROJECT
The Polyforum Siqueiros site, in the heart of Mexico City, is an unlikely but equally precious blend of political, societal and artistic history. When asked to profane that sanctuary we decided to create a building that would celebrate its authenticity by manipulating the public space around to improve its accessibility and visibility. We then proposed to refer to the original neutral beauty of another equally 'vandalised' place: the Cité Administrative in Brussels. Although the Cité Administrative has recently mutated architecturally we decided to give its undeniable original stylistic purity a form of homage by applying its façade rigor to our Polyforum project in Mexico City. The result is a contrasted and distorted reflection of the original Polyforum onto a warped version of Brussels longest slab, turned into a tower. See jdsa.eu/poly.
HAMMERSHUS CORNICHE
The Hammershus Visitor Center in Bornholm is a paradox: at once a noticeable gateway to the historical site, then a hidden landscape tucked into the hill, finally a dominant and proud corniche, reinterpreting the topography in its own way and positioning itself as a response to its neighboring wonder, the castle of Hammershus. See jdsa.eu/ham.
AN URBAN VIENNOISERIE
2013 was marked by our first attempt at a project in uber architecturally cool Austria. We teamed up with X Architekten to submit for this 100000 m2 mixed program project in the immediate vicinity of the new central station of Vienna. See jdsa.eu/vie.
WUHAN K2 TETRIS TOWERS
The K2 project is a high density residential complex that aims at squeezing the impact of the buildings onto the ground to allow for a maximum amount of outdoor parks to proliferate locally. The buildings propose a multiplicity of typologies to compose a 3-dimensional Tetris structure of apartments spiraling up a central circulation core. See jdsa.eu/k2.
QINGDAO OPEN HAND
The Qingdao Open Hand project is a project that addresses urban issues and boils them down to the scale of a building. The project is split in 2 phases, together gathering 5 individual buildings joined into a common public space. Like 5 'fingers' joined by the palm of a hand. The first phase, currently under construction, is a commercial and office entity of 180,000m2 and makes up for the 2 first and most representative 'fingers' of the development. The 'palm' of the hand is a large and open public space spreading on all the roofs to allow views to the sea. See jdsa.eu/qoh.
PRESS FEED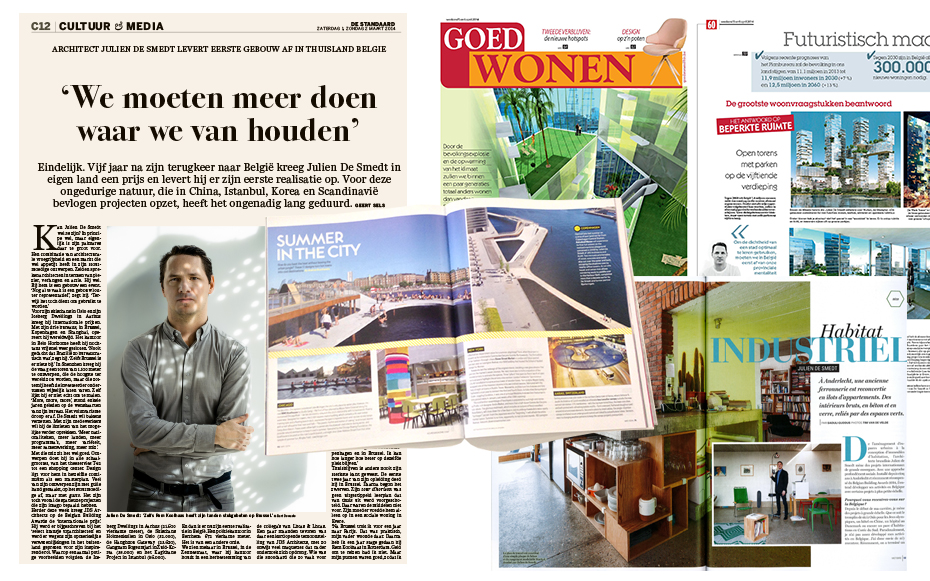 We've had a string of press clippings. Here's a small selection of those we felt deserved to be uploaded on our website's press section.
New clippings include articles from Standaard, Laatse Niewus and Victoire Magazine and two video interviews (part 1, part 2) conducted by Arch Archiurbain (in French).
LAST BUT NOT LEAST: BRUSSELS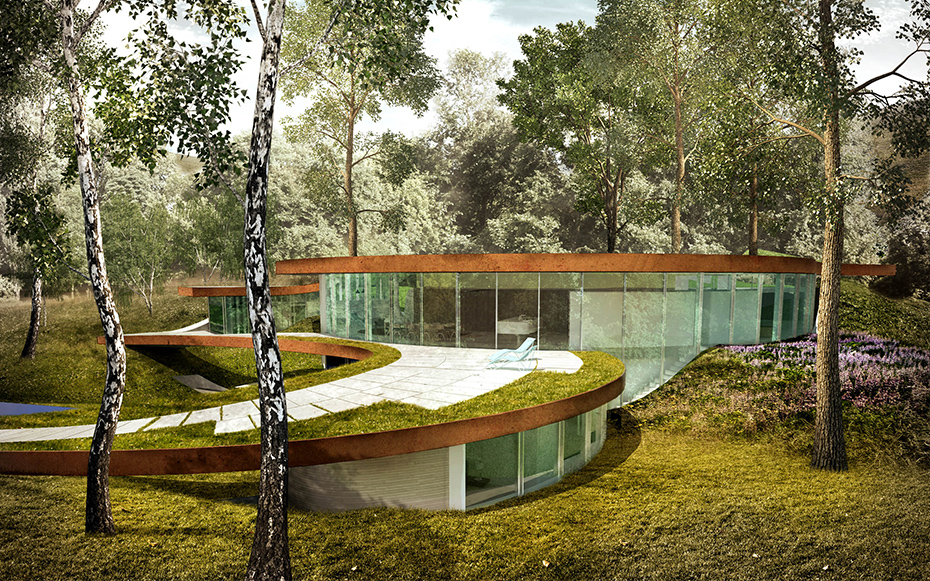 This project is a double first for us and we're very proud of it: The first family house and first submittal of Building Permit in our city, Brussels. Next month we will reveal the pictures of a weekend house we completed in the French Jura region.